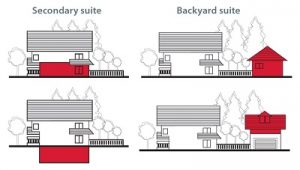 From June 1, 2018 the City created a 2 year amnesty period, during which the City has created a grandfather program for existing secondary suites in single family homes, where you must show proof the suite was in operation prior to December 2007.
As of 2019 the grandfather program now effectively includes all existing secondary suites. No proof of prior operation is required.
City fees: Development Permit is $471 (currently zero under grandfather program) and Suite Registry is $232, so $700 in total plus drawings.  These fees are waived until May 31, 2020.
After the amnesty period legalizing a suite may mean the following additional costs:

Development Permit and Suite Registry fees, currently waived, may be applied ($700-ish).  It is quite possible the City will extend the waiver on either or both of those fees.
Starting in June 2020, all secondary suites (regardless of construction date) will need to comply with the National Building Code – 2019 Alberta edition.  This means the following:

The property will require a separate furnace for the suite
The furnace room will have to be fully drywalled (instead of the current $500 option for a sprinkler head in place of that).
There may be various other items required by the new code.
Costs will be 3 to 4 times higher than under the amnesty period, during which we legalized our four secondary suites.  A second furnace plus re-configuring the HVAC ducting can run up to around $10,000 especially if ceilings have to come down for the ducting work to be done. Drywalling the furnace room can easily run to $1,000 and above.

If a property owner calls the City or has a Contractor or Architect call the city on their behalf, the City will book an Inspector to come to the property (good to have the RPR with you) and the Inspector will complete the application on-site and submit it for you.  If you have a good Contractor experienced with legalizing suites you are better to go that way.
Try not to ask for exceptions in your application – if you are using an experienced Contractor you can on a few areas only.
Best suites are 4-level splits with 3rd level walkout. They show well and are nearly never vacant.  Carriage Suites (above garages are also excellent.
Properties built in the mid-1990's and newer are best.
The City declared that after the two-year amnesty period ending June 1, 2020, owners of properties with illegal secondary suites could be subject to fines or penalties for advertising non-compliant suites for rent.  I suspect this will be extended beyond June 2020.
On Secondary Suites in Duplexes
On November 18, 2019, Council accepted the land use bylaw amendments that would allow for legalization of secondary suites in semi-detached dwellings (duplexes) in the following districts: R-C2, R-2, R-2M, M-CG, M-C1, M-C2, M-H1, M-H3, M-X1, M-X2, CC-MH and CC-MHX.
I don't know yet when this new Bylaw will come into effect.  This may create an opportunity for investors on Duplexes.
Key Takeaways
After the 2 year amnesty period to June 2020 (which could be extended) you won't be able to advertise an illegal suite on Rentfaster etc, and will have to advertise on Kijiji. The City will be actively searching the market for illegal suites.  So in the near future, likely by 2021 or 2022, any landlord with an illegal suite will have a tough time finding renters, will have lower rents, will have the City actively looking for them and shutting them down, and will have lower property values than those with legal suites.
More and more lenders are backing away from lending on properties that contain illegal secondary suites. This will only get worse.
Main page Secondary Suite website City of Calgary webpage:
https://www.calgary.ca/PDA/pd/Pages/Home-building-and-renovations/Secondary-Suites.aspx
Apply or Legalize an existing secondary suite webpages:
https://www.calgary.ca/PDA/pd/Pages/Home-building-and-renovations/Applying-For-A-Secondary-Suite.aspx
https://www.calgary.ca/PDA/pd/Pages/Home-building-and-renovations/Legalize-an-existing-suite.aspx
Current City of Calgary webpage listing all legal registered Secondary Suites webpage: