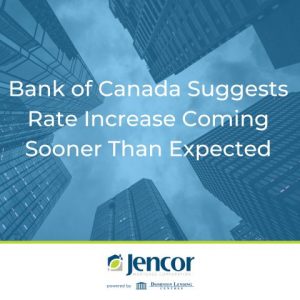 Bank of Canada Holds Overnight Rate Steady, But Suggests Rate Increase Coming Sooner Than Expected
The Bank of Canada made its latest rate announcement on April 21 and, as expected, committed to holding its target overnight rate steady at 0.25 per cent.
However, in response to new signs of strong economic recovery across the country, the central bank made two significant changes to its monetary stimulus program and economic forecast. These changes will likely make a fixed rate mortgage more attractive than a variable rate mortgage for most homebuyers.
Interest Rate Increase Forecasted for Next Year
The Bank of Canada has suggested that due to improving economic conditions, we can expect its overnight rate to rise in the second half of next year (as opposed to 2023 as initially forecasted). This indicates that we are now at the bottom of the interest rate cycle, and that variable interest rates could start to go up in the next 18 months.
Bank of Canada Scaling Back Bond-Buying
Given the resiliency of the economy, the Bank of Canada has said it will begin to scale back its bond-buying from $4 billion to $3 billion a week. We can expect that this scaling back will take off some of the downward pressure that has been keeping fixed rates low.
Both these changes by the Bank of Canada suggest that short-term (variable) and long-term (fixed) rates could begin edging higher sooner than previously expected.
How does this impact my mortgage?
Variable rates are attractive when rates are in a downward trend or staying flat. Fixed rates are attractive during an upward trend. Since we are now at the bottom of the interest rate cycle and have begun an upward trend out of historical lows, a longer term fixed rate mortgage will be the safer decision for those who want to ensure no payment increases over the term of their mortgage. Now may also be the right time to lock in a fixed rate if you currently have a variable rate mortgage.
Call or email me for a personalized analysis, as everyone's situation is unique.
More information about the Bank of Canada's April 21 rate announcement from our Chief Economist, Dr. Sherry Cooper, is available here: dominionlending.ca/economic-insights/bank-of-canada-holds-rates-steady-but-pares-bond-buying-program